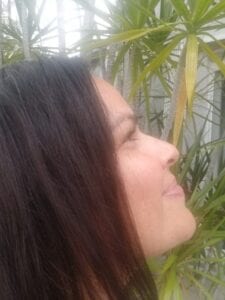 ~ Lota in Florida is our Spanish Restored Marriage Minister who has been used by God to work closely with the RMI's Spanish Español ministry since her marriage was restored over a decade ago.
Restored Marriage Testimony: Restored after going THROUGH the Fire!     
It was 2002 and I was attending a family retreat with my husband and children. I had already attained a lawyer for our divorce and was there for the "children". My husband had been unfaithful various times and I had had enough. At that point, there were no more tears, because I deserved better. The Saturday night of the retreat my daughter, 11 at the time, went to the altar and started crying. I went up a bit after to support her. She looked at me and said, "please don't leave me".
The children were unaware of the divorce, but I guess she felt it in her spirit. I started to cry because Niquole is my husband's daughter from a previous marriage, but we have raised her since she was 3. I didn't give birth but I love her like my own. At that moment, I promised I would not leave her. I fell on my knees cried out to God to please help me and that I could not do this on my own. I cried out to Him with my heart's desires and left it at His feet. That night I met a woman who gave me the RYM book and my life has never been the same. Miraculously, the lawyer never contacted us again. 🙂
So I got the book and started reading it. I just remember praying for God to open my heart to Him. I had heard everyone else's advice, but I wanted Him to speak to me. I was in shock as the Word of God became so real and bold. I felt like the veil was removed from my eyes and I could see clearly all my faults and What God's purpose was for me. He gave me a new heart and a new love for Him. He healed me and all my hurts and the ability to see my husband with His eyes.
My journey started, as I read the book and was ready to be the women, wife, and mother God wanted me to be. And then came one of the most difficult things the Lord called me to walk through. One night my husband sat me down to talk. He tells me he met someone else and it is serious, so serious that he wanted the children to meet her. (In the past he had OW, but never openly told  me or the children.)
The old me would have flipped, but God just gave me this calmness and peace so I just listened and accepted. My husband couldn't believe it and had to make sure I was listening and understood. I told him I did and he left. He never physically left the house, but I let him go and never looked for him or called.
God became my everything. EVERY tear, concern, feeling, and need I gave it to God. I didn't speak much only when necessary and never asked questions, it was no longer my problem but God's. He sustains me and I wanted all the glory to be His. There were sooo many tests but I always saw them as just that, tests.
I knew God was in control and He had permitted it for a reason. He took away the fear and replaced it with a willingness to serve Him. I always submitted to His will and got through any trial He has allowed because He is worthy. I loved Him more than anything and anyone. I would need a whole other section to list all He has gotten me through. 🙂
In the beginning, I was praying and always seeking Him. I was not used to doing this so I didn't "feel" much. I was persistent and pressed forward because He was all I had. The more I ran to Him the more I would see Him move and I truly fell in love with Him.
I was praying one night, just like I had been doing for quite some time and I was declaring the scriptures I had written down on cards. All of a sudden I felt this boldness come over me and the POWER of His word really touched me. It was like my spiritual self was no longer a baby but had grown. That was when I felt His word come alive, IF GOD IS WITH ME WHO CAN BE AGAINST ME. All fear was gone and my trust was and is completely in Him. I didn't have to worry about the future or what was to come, I have the Lord and He is all I need and want.
There are many principles the Lord taught me, one is to Love. If God lives in us and He is love how can we not do the same and have compassion of others? Forgiveness is very important. God showed me all my faults and He is so merciful to forgive me how can I not do the same to others. It sets you free so God can move. Love never fails. We are His instrument to show unconditional love to others. That may be the only time they will see a glimpse of God.
For me, the RYM book was the most important RMI resource since it was some time after my restoration that I even visited the website.
I want to encourage you, dear friend and bride, you are where God wants you to be. You may not understand and want to run far away, but God wants you to be still. Give him your heart and you will never be the same. Always praise God. When the trials get tough your blessing is close. Let God be your provider and turn to Him for everything.
Being restored for more than 10 years has not been easy, but God is so faithful. Stay true to your faith and obedience to God. His word is always truth and clear. Don't complicate it with the details and circumstances of your life. OBEY His word and LOVE him more than anything and anyone. You were called with a purpose, to do not as the world does, but to live for Him. He is worth every tear, sacrifice and humiliation. He deserves everything and more. When you choose to love, forgive and obey the enemy will flee!
Blessings!!
Lota
READ more about Lota in her Encouraging Praise Reports:
"We are ONE in Him"
Revolution Day Memorial or "Dia de la Revolucion" in Mexico is a national public holiday that celebrates a 10-year revolution that began in 1910 to end the struggle against a dictator named Diaz and to help reform Mexico.
I am not from Mexico, in fact I was born here in the USA, but my parents are from the Hispanic country of Colombia. I do represent the ministry's Spanish speaking ladies and regardless of the different countries we come from, we are united as one.
I wanted to share a bit on how I got to this position. As a child, my parents only spoke Spanish, so I became fluent. However, I didn't study the language until I was about 5 years old. It was a brief time where I learned the basic ABC's. Then, not until High School that I took Spanish as my foreign language elective for 3 years. Let's just say that I wished I had paid more attention.
So when my marriage came crumbling, a dear friend introduced me to RMI. At the time, I was working as an elementary school teacher. This ministry changed my life. Kinda like a revolution. Here is one of the definitions: a sudden, complete or marked change in something.
Although everything around me looked hopeless, I was experiencing the most beautiful time in my life; Jesus intimately.
Ladies be grateful and appreciate how much this ministry has to offer. When I came to RMI there was no Encourager or lessons. I remember trying to submit my first PR and the site crashed and it never went through. Well beyond that, I actually didn't go on the site until after my marriage was restored knowing I had to share and give back what this ministry gave to me, HOPE AND MY TRUE LOVE "JESUS"!
Even though I was sharing my testimony to who ever the Lord led around me, I wanted to start volunteering for RMI. So I started writing messages. I believe it was once a month or so for the ladies to read. I was so excited and enjoyed SG to see what He wanted me to share. I love ministering and praying with/for others; anything to share Jesus and the abundant life HE wanted us to have.
One day, a teacher friend (she was a Spanish teacher) came to me with a gift. She handed me a bible. I said thank you, but I have one already. She said, "Oh no Ana, you are going to need this Spanish bible. You will be ministering to many Spanish speaking ladies." I thought to myself, "who me?", that's funny and highly unlikely. I took the bible and said thank you very much but my Spanish is horrible lol and we went our separate ways.
Well ladies, shortly after that, Erin asked me to work with the Spanish portion of the ministry and I have been here ever since. I must say only by the grace of God and His mighty hand have I been able to do what He has called me to do. I will be honest, it has not been easy and at times I have doubted if this is where I should be, but after SG He always confirms His faithfulness to me and that this is exactly where He wants me.
So now, more than ever, the Lord is breaking the Language barrier for this amazing ministry. We can say no matter the language, country or state we are from, we are His brides and beautifully loved by HIM! Let's continue to press forward and share our revolution or life changing experience having Jesus as our Heavenly Husband.
"Leave No Memory Hidden"
After reading Erin's Weekly Message, "I Should Have Known", I couldn't help but  remember the day when I got the How God Can and Will Restore Your Marriage book in my hands and I started to read the pages. I was shocked, hurt and cried. For the first time in my whole marriage, I realized I had so much to do with the destruction of my marriage. I really felt my walls being torn down and any pride I had left of "I am a good wife" crumbled. The beauty of it all, was in my unbearable pain, it was the first glimpse of clarity in my life.
The thing is that we are very blessed and fortunate. We all go through times of being ashamed and having guilt for things we may or may not have caused. God is faithful, and He brings things up from our past, that in normal circumstance, we try to hide to never think of again. Sometimes I would ask Why Lord? Why are You asking me to bring up these horrible memories? I understand now that they are for my healing.
His desire is that there is not one area of our lives He has not healed. Let me explain. He wants us to go to Him with everything. Our past, present and future. There was a season in my life where every detail of my childhood, teens were brought up in my time with Him. Oh how I had wished I had known Him then. I made so many mistakes and been through so much. But He has given me that opportunity to give it to Him and He is faithful to tell me what He thinks of me and Heals my heart of all the pain. IT is truly amazing!!! The memory is there, but not the pain and hurt. Only the Lord can do this.
Dear friend,
Please don't leave any area or memory hidden, but openly give it to God so HE can tell you what he thinks about it and see His mighty hand heal you and set you free.
"Best Thing for Me"
I have to admit that many years ago when I started my RJ, I let go of my church in obedience to the principle of allowing my EH to become the spiritual leader of the home. I was eager to do whatever it took to be right with the Lord and show Him how much I loved Him. At first it was hard because in my mind, by not going to church, I felt that "me and my household were not serving the Lord." The more I let go, the more I pressed on to the Lord and the clearer His presence became in my life. He showed me quickly not to limit Him to four walls and He could do anything in an instant, (change hearts, open and close doors, etc.). He showed me that my first ministry was my home and I was serving Him in my obedience. As I continued to seek Him and His word, it became food and LIFE to my spirit. I knew, because of this time ALONE with Him, that I can reach out to Him and Him to me at anytime or place. How beautiful is this ladies! Really knowing that I am never alone and always cared for and loved.
When we allow Him to be our Spiritual leader, He fills us, completes us and heals us in supernatural ways.
Friend,
How beautiful it is to know that whenever you are in need, you can run to Lord and He will supply all your needs. Fear is not from the Lord and His word says He will never leave you nor forsake you. Give Him the chance to show you He is sufficient and more than enough. Is He not worth our time and obedience. Is His love and provision not enough that you feel the need to run to others? Humble yourselves and open your heart. Press forward and don't look back. Let go and let God be your HH. I promise you will be standing on the Rock and never shifting sand. Your HH can love you more in a moment than all the lovers could in a lifetime. He is waiting for you!
"A Beautiful Thing"
Erin's Weekly Message "God Points, He Clears" is a short lesson but so important. Like Erin says that she is a "doer" I find myself wanting to get everything done and learning to rest is a bit hard. But thanks for my HH who teaches me this principle. He taught me this when in my RJ I learned to be submissive to my EH. I would have a mess around the house and I knew it was my responsibility to get done. And since I knew if I didn't get to it no one else would do it. Well as I cleaned, my EH would tell me to go and watch TV with him. In my mind I would fight that idea with all the "work" I needed to get done. But the Lord would place in my heart to listen and trust in Him. So I would stop, put everything aside, and watch TV. The beautiful thing is at some other time, that I didn't even know I had, my HH would make a way for me to get everything done and it was easy!! As my HH is the best Husband ever, I listen to Him when He tells me to rest and He takes care of everything around me.
Sometimes when I work with the ministry or things of everyday life, certain tasks may get difficult. It may not be in the work itself but may be in the amount of work. I tend to press even harder thinking it is the enemy trying to stop me from doing the work. But learning to have Him as my HH and knowing He is greater than all things, I give Him my heart so He knows I am willing to press through or rest. The Key is seeking His will!
It is so true that even in the smallest of tasks about the Lord revealing His visions. When the Lord puts in my heart His desires and I try to fulfill it in my time and with my strength it gets hard with lots of obstacles. So I stop and give it to Him, letting Him know my willingness to trust in His timing and strength. Then what tried to take me all day to do gets done in minutes.
Dear Friend,
Learning to take the Lord as your HH is a beautiful thing. It means to never be alone and always have the comfort you need. Open your heart to allow Him to work in you and be the bride He wants you to be. Allow Him to share His heart with you and He can trust that in all you do, His visions are safe with you, walking together hand in hand.
"Scripture Speaks such Truth"
After studying my RMIOU Ministry Commitments lesson this verse, "No servant can serve two Masters, for either he will hate the one and love the other, or else he will devote to one and despise the other." Luke 16:3-4, speaks such truth! It is expressed in this lesson, the importance to not be involved in any other church or ministry, but to me it also means to not have anyone or anything else before Jesus. I have learned to SG anytime I hear or read something that I may question or feel in my spirit. We are all human so it is in the intimate relationship with our HH that ultimately I can discern what He is saying or what He wants to reveal to me. Or maybe what He is asking me to do.
This ministry has brought me such truth and peace. It has not been an easy road, but I knew and know He wants me here and to follow each principle given. Over the years I have heard many preachers, whether on the radio or at a church and many times things that have been said are contrary to what this ministry has said, but most importantly contrary to what He has called me to do after seeking Him and spending time with Him. That is why its all about having HIM to guide me, He has to be first so I am not tossed by the sea here and there.
I also saw this happen to a very dear friend who never left her church. She was always divided between what the Lord had called her to do for her restoration to Him first and her EH and what her church and pastor were teaching. She was never able to trust God but just simply went by what she would see. Her church emphasized so much on rebuking sin that she was never able to see past that and see her EH with His eyes.
I will be careful on what I read or listen to. I do occasionally go to a church when my EH asks us to go with him. This was the first christian church he went to and accepted Christ in his heart. I have let go of church and am not a part of any other ministry. I have volunteered occasionally with His Angels, a non-profit that donates shoes to an orphanage.
If you've struggled in this area, please join me in praying:
My Lord,
I confess that for many years my heart's desire was to be members of a church and felt this had to take place for any spiritual growth. Forgive me. You spoke to me when I wanted so much for my EH to attend a men's conference. Every year he was so close to go, then something would happen. You spoke to me clearly that You can do anything and at anytime effortlessly and a "conference" was not the answer but You are. My trust must be in You! In Your timing Lord my family is in Your hands.
Dearest Heavenly Husband,
Help me to always trust in You and to always seek You in all things. Bless me with Your spirit of discernment and revelation to see Your truth and will for me and my family. Help me to see my purpose so I can serve You through this ministry.
Dear Brides,
I know this step of letting go may be difficult because we feel that this is the only way to be spiritually fed. But when we trust in God and allow Him to spiritually feed us anywhere and at anytime, you will learn that this intimacy is the best and cannot compare to anything else.
"My Trust was and IS in Him to Provide"
When I came to a point of my life where I was broken and truly experienced Jesus and my everything, I have learned not to care on money or earthly possessions. All I need is my HH and He will supply all my needs. After being renewed and so spiritually fed in this ministry, I remember the Lord starting to speak to me about tithing. I always knew about it, but not until being fed in this ministry about it, is when my heart was open and started seeing the importance of also being obedient to this truth.
I have always felt free to give not worrying about tomorrow, but I know the Lord wanted to bring me to a new level. Last year is when I starting "doing" what I was always willing to do, but for some reason or another didn't. Giving my WHOLE tithe.
My EH and I own a business, so it started where I was giving 10% of all income to our shop. Trusting that God is the one who provides all our work and will increase our customers, and even with that I was trusting that somehow my EH wouldn't have to work such long extended hours based on His promise "He will supply for us even in our sleep." Well my HH has glorified himself in that area and I wrote a PR about that.
So later on in 2014, the Lord revealed to me that yes He supplies for our business but that I needed to tithe separately on all the income that goes to us personally. So as of now, I tithe on all the income in the business, then what ever income is used for us, personal bills and expenses, I tithe on that also. At first it was hard because it was like i was giving double, but after SG He confirmed that it needed to be right and He would "open the windows of heaven" for us.
I struggle a bit with the a certain area of my finances. Let me go back. I worked as a school teacher while my EH attended to the business. For some years, our house lived off of my income only. Before coming to RMI, I nagged so much asking my EH where was all the money he was making from the business and at some point was thinking I needed to divorce him because of his lack of financial help among other things.
From the start of my RJ I SG in many areas and my finances was one of them. Not so much the tithing at the time, but the fact that I was in charge of them. I STOPPED nagging and brought all my cares to the Lord. Again my trust was and is in Him to provide and He did miraculously.
One day, my EH came to me and said, "I know it has been a long time and I am truly grateful you have not bothered me about it, but I know my responsibility and I will start providing for this house." My heart dropped and I leaped inside for Joy...my HH had touched the heart of my EH!
Well since then it has been just like that. My marriage was restored in 2002, my son was born in 2003 and since then I have not worked but instead have helped my husband in the business.
It was a huge leap of faith, since we depended solely on my income, but my HH knew the desires of my heart to stay home with my son and after much prayer He gave me confirmation and I obeyed not looking at my circumstance. He has been providing and all through our business and my EH. I do not work outside. I have been offered many job opportunities to make extra money and it sounded good, but my faithfulness is to the Lord and He wants me to allow my EH to be the sole provider, which ultimately means I am depending solely on my HH.
So now I have prayed for the Lord to touch my EH to take the role and take care of the finances, collect the money and pay the bills, since I did not want to do anything that is rightfully my EH position, but in all occasions, it is confirmed that I am to handle them.
So here is where I struggle a bit. My EH has no idea what I do with the finances. He will occasionally tell me to pay this or save this. Even when we occasionally go to church, he will give me or tell me what to give. Let me go off for a moment to share about this:
Years earlier, When we attended church, I used to put pressure on my EH to tithe,give because I wanted to be blessed. I wanted the windows of heaven to open so I would take out the checkbook ready to give. Then one day at church, my EH said "Why should I tithe or give if you do it anyway. and since you do it with my approval or not there is no need for me to do it." From that day on I STOPPED giving in front of him or telling him to do so and I SG and repented.
Now, occasionally when we go to church I just sit quietly and the last couple of times he has given his tithes and I just thank my HH for once again touching his heart.
Sorry, so now back to what I struggle with. I tithe on the business and personal income. My EH doesn't know about this. Like I said, he doesn't ask much about the finances, just an occasional question here and there. But, although I have been tithing faithfully, I have fallen behind on bills and some are 3 months behind, but my heart wants to be faithful so I tithe before anything else. I know the Lord is in control and I am SG why this is still occurring, (not having enough for all the bills on time) but regardless, I want to give what is HIS!
So at times, my EH asks why there isn't enough for these bills and I just say, it will be taken care of. Since he doesn't ask if I am tithing I don't tell him. The Lord knows I have given this to Him and to guide me if this question ever comes up and how I would be crushed not to be able to tithe if my EH says no.
So with that said if you feel led to SG with me and share what He reveals to you.
Erin: As you asked, I did want to SG with you since I too am interested to know His truth more fully. What He brought to my mind was the part of your testimony that your EH has turned the finances over to you to pay, and when you asked Him before on the matter of tithing at your EH church, your EH said, "Why should I tithe or give if you do it anyway. And since you do it with my approval or not there is no need for me to do it." It's difficult to find a balance in our marriages, and though there are things each of us would prefer our husbands do, very often we still must continue doing them until he takes them on (often during a crisis) as you probably remember from A Wise Woman. As far as tithing on both your business and personal income, I've struggled with that before, but as I shared in one of the Ministry Commitments, even though it appears to be tithing double, and the enemy tries to convince us that it's why there appears not to be enough to pay bills, that even when we are mistaken, He sees our hearts. AND we can never outgive God.
So I hung onto this truth, continued to tithe "double" ministry and personal income, and am thrilled to find that we are up to being able to give about half of our income away: 10% tithe and another 30-40% offering for the ministry and personally 10% tithe and another 20% offering that I am hoping to raise. This in no way is boasting because it's ALL Him.
I share about tithing and the importance of it. I pray that I can lead by example and always be faithful to my HH who deserves everything.
Pray with Lota if you struggling in the same way: "If we confess our sins, He is faithful and righteous to forgive us our sins and to cleanse us from all unrighteousness."—1 John 1:9 *
Lord I come to You humbly to ask for Your wisdom with my finances. Knowing that my EH doesn't know about my tithing, and still not having enough for all the bills to pay them on time it is tough. I know Your promise is true, so forgive me if there is something I am doing wrong whether it be in my finances or in my personal life that is hindering You from rebuking the devourer. My trust is in You and my heart's desire is to be obedient no matter what my circumstances show.
My Love, Help to seek You more on how I handle the finances with the business and the personal income. Show me Your will and bring me Your peace that surpasses all understanding. May I seek you in everything I purchase, pay etc. That i do nothing apart from You.
Dear Brides, Like every principle shared in this ministry that is based on the word of God, it is truth and we need to obey with no hesitation. See the Lord's faithfulness when we are faithful to Him.
"Mothering & Healing"
2 Corinthians 4:5-6 The Message (MSG) "Remember, our Message is not about ourselves; we're proclaiming Jesus Christ, the Master. All we are His messengers, errand runners from Jesus for you. It started when God said, 'Light up the darkness!' and our lives filled up with light as we saw and understood God in the face of Christ, all bright and beautiful."
As women, we are created in a very special way with many roles to play as we walk this journey of life, (daughter, wife, mother). Now in Christ we are new creations with new roles or a new identity. We are a Spiritual daughter and bride to our Heavenly Husband. We are His and He is ours. So beautiful, as we are called the LIGHT of this dark world. So this Mother's Day, I want to celebrate as we are called to be Spiritual Mothers to those the Lord brings around us. Each of us uniquely created to serve the Lord by serving others in need with our testimony.
2 Corinthians 4:16-18 The Message "So we're not giving up. How could we! Even though on the outside it often looks like things are falling apart on us, on the inside, where God is making new life, not a day goes by without his unfolding grace. These hard times are small potatoes compared to the coming good times, the lavish celebration prepared for us. There's far more here than meets the eye. The things we see now are here today, gone tomorrow. But the things we can't see now will last forever."
Can you believe that every moment, situation and circumstance has been perfectly created for you to be where you are at this moment for a greater purpose? Resting in the Lord as we seek Him first in all things for our ministry, our homes and for this hurting world. We know God and trust that we are always in His perfect will as we rely on Him. Let's be willing to nurture, love and have compassion for all those the Lord brings around us—just as a mother would to her own child. May we always be willing to love unconditionally without giving up no matter how things look around us because He is making us new for a grand celebration that is eternal.
2 Corinthians 5:20 The Message "We're Christ's representatives. God uses us to persuade men and women to drop their differences and enter into God's work of making things right between them. We're speaking for Christ himself now: Become friends with God; he's already a friend with you."
When I was asked to share about someone the Lord brought into my life to mother, instantly the Lord spoke to me about a young lady named Niquole. I have known her since she was very young. You see, she is my EH's daughter and at the age of 3, her biological mother, who lived out of the state, gave my EH custody. At the time we met, we were not yet married, but simply dating. When she turned 4, we got married and became a family. I would love to say we lived happily ever after, but it was a tough road. I was put in a position to step into the role of the "mother" in this child's life who felt rejected and confused as to "why" she could not be with her biological mom. I had no support from her mom and instead was very often criticized, ridiculed and mistreated, which is understandable now, but at the time, it made everything more difficult.
I tried my best to mother Niquole, but being so young, only 18 years old, this new and added responsibility made me feel like a failure. Then one day something changed. This is before I even came to this ministry for my marriage. I was attending a retreat and the speaker said to write down the name of anyone that has hurt me and that I needed to forgive. A strong overwhelming feeling came that this person was Niquole's mother. I simply obeyed and with all my heart I asked the Lord to help me forgive.
Ladies, this was the first time I experienced God's power in forgiveness. It was like a huge weight was lifted from me and not only was I able to see her mom differently— with compassion— something even more special happened. I was truly able to LOVE Niquole with an intense motherly love. I don't know how else to explain but it was as if the LORD revealed His purpose to me as to why Niquole was in MY life and nothing else mattered. Any future insults, rejection, etc... It didn't matter, I was going to LOVE this little girl with my whole being and I was no longer alone trying to do it—the Lord was with me loving her through me.
LOVE never fails, (1 Cor. 13:8) it's so powerful, and even today, years later, we have a wonderful relationship. She has a family of her own and most importantly, she Loves the Lord. She expressed how grateful she is to have ME in her life, but I say that I am the one who is SO BLESSED to have her in mine.
I feel blessed because my HH is faithful and answers even the smallest of prayers and heart's desires. It is so beautiful to know that He wants me to go to Him for everything and place it at His feet. Then, I can simply rest that He is in control.
"...Jesus went along by the Sea of Galilee, and having gone up on the mountain, He was sitting there. And large crowds came to Him, bringing with them those who were lame, crippled, blind, mute, and many others, they laid them down at His feet; and He healed them. So the crowd marveled as they saw the mute speaking, the crippled restored, and the lame walking, and the blind seeing; and they glorified the God of Israel.…" Matthew 15:29-31 (NASB)
How amazing are His miracles, what a blessing to know He want to take care of even our small requests.
"Show Ourselves Courageous"
As I read April 18th Stream devotional, the Lord brought to mind a situation that clearly showed how we should let go and give Him control of everything. I was out boating with a group of friends and we were in a sandbar, which is a shallow area in the middle of the bay. We were able to get out of the boat and stand in the water. Suddenly a strong wind and current came which raised the water level and lifted the anchor from the boat. There were three friends who were struggling to get on the boat and one did not know how to swim, which completely wore out her sister who was assisting her to the boat. All were now safely on the boat except the sister who was last. At that moment, I grabbed her hand to help her up, but because she was exhausted her body weight pulled me in and we both fell in the water. The current was so strong it pulled us away from the boat and even with the motors on, it was extremely difficult to move the boat to us. I found myself struggling not only to keep myself afloat but this other person who was very heavy and panicking. If she continued to struggle with me, I was going to run out of strength for the both of us. Before I allowed myself to also panic, I remember in my heart just crying to the Lord for help, and as I did soothing words began to come out as I helped her stay afloat. I spoke into her ear, "we can do this, we will be fine, just relax and float. I am here to help you." I kept repeating the same thing over and over until suddenly out of nowhere a life jacket came floating by us and I was able to grab it which helped so much and finally the boat was able to come close enough to pull us both up. I have never experienced anything like that. It was like I had a glimpse of what it would be like to drown and all I can say was that my HH was there and saved us. A true miracle!
He reminded me that so many times we fight with our own strength but we need to hear His words of comfort to rest and trust that He is there and He is in control. He is more than able, our Defender and Protector.
All the glory is His, every time I think of that day I am in awe of His mightiness and faithfulness. I know STREAM's devotional goes hand in hand, but let me share that My Beloved also does:
April 18 Streams
"Be strong, and let us show ourselves courageous for the sake of our people and for the cities of our God; and may the Lord do what is good in His sight" (2 Sam. 10:12).
Beloved, we must show ourselves courageous for the sake of all others who are watching. Yes, inside we may experience fear in our souls, but no one needs to know, save God alone. All of us fear, we are all human, but it is the ones who fear yet press forward who are the heroes that encourage others to also move forward rather than retreat. However, when you speak fear, when your countenance shows fear, then all is lost. Get on your face, run to the Lord the next time you feel fear coming on. Don't tell another—the adversary is listening. Ask God for the strength and then get up and move boldly forward for the sake of all, and for the cities, who will be watching.
Thank you Lord for guiding me to call upon You and strengthening me to press forward.
"More Love in a Moment"
Dear Brides, if you take the time to go through the Living the Abundant Life Course, do not be afraid of what is shared in this chapter "No Longer an Adulteress" or allow any negative thoughts to enter. Our HH knows every desire of your heart and He wants to give you the absolute BEST life ever. Take each step and each day at a time to seek wholeheartedly His presence and will. Once You feel His love you will never be the same.
"Then the Lord reached out his hand and touched my mouth and said to me, "I have put my words in your mouth. 10 See, today I appoint you over nations and kingdoms to uproot and tear down, to destroy and overthrow, to build and to plant." Jeremiah 1:9-10
Reading this chapter to me is one of the most important principles to learn, understand and live. The question is are we willing to allow this RJ the opportunity to show us a level of intimacy with our HH that is so amazing that nothing can come even remotely close or compare to. I cannot imagine my life now not having Him as my everything, and although we call this a journey because it is all in His timing, be persistent in wanting the restoration that is of the greatest importance, with our Heavenly Husband.
I have been restored for over 13 years and I can say time and time again, my most precious relationship is the one I have with my HH. The scripture is so true that Michele shares:
"........and his interests are divided. An unmarried woman or virgin is concerned about the Lord's affairs: Her aim is to be devoted to the Lord in both body and spirit. But a married woman is concerned about the affairs of this world—how she can please her husband. 35 I am saying this for your own good, not to restrict you, but that you may live in a right way in undivided devotion to the Lord." 1 Cor. 7:34-35.
Many of you are separated and can only think about marriage restoration and feel that this will bring the ultimate happiness, but I am here to share that is not the case ladies. I have an amazing EH, family, and life. I am so blessed beyond I could have ever imagined. Others look in and see a PERFECT picture, but I struggle everyday.
I feel the conflict of "But a married woman is concerned about the affairs of this world—how she can please her husband." and my spirit completely wanting, "Her aim is to be devoted to the Lord in both body and spirit." I don't know if it is just me, but at times I cry out to my HH letting Him know that NOTHING else matters or compares to Him and His love for me. You see, NO ONE can love us like He can. I have a saying that speaks deep from my heart to Him, "YOU can love us more in a moment, than anyone could in a lifetime".
At times I want to run because I feel like I am letting Him down not being able to be FREE to do as I want for Him, but HE reminds me of His will and of course I completely surrender.
"To the married I give this command (not I, but the Lord): A wife must not separate from her husband. And if a woman has a husband who is not a believer and he is willing to live with her, she must not divorce him." 1 Cor. 7:10;13
I know everything we live through is for a grand purpose and for those of you who have complete alone time with the Lord, embrace and treasure it with all you have. It is something I hold so dear to my heart. What Michele shares in this chapter is far from us not BELIEVING in marriage restoration, but to share that when we have our Beloved we no longer NEED it, and there is a big difference. We have to understand that we NEED nothing but HIM! I can share that along my RJ I have had to let go of all areas of my life. For example, my children. Something that is so precious, but at some time we need to surrender them at HIS feet. It is not that I don't BELIEVE in God for their well being and provision, but I know that HE is in control and I must trust and surrender them to HIM.
My son was involved in an awful car accident in 2012. The police and paramedic called to the scene could NOT believe my son got out of the car with just minor scratches and bruises, (ALL THE GLORY IS HIS!), but what I want to share is the moments, that felt like hours, before arriving at the scene. It still brings tears to my eyes. When I heard the news my heart dropped and the first thing I said, "Lord, please speak to me now" and I opened my bible and He did "Do not be afraid, land of Judah; be glad and rejoice. Surely the Lord has done great things!" (Joel 2:21) When I read that I began to rejoice and again surrender my son to HIM and whatever the outcome HIS grace would be sufficient for me.
I know for some it is hard to imagine or comprehend but, I had a very dear friend who her son was diagnosed with Lupus. She said that when she ran out of the hospital one day and cried out to God and finally surrendered her son to HIM, LET YOUR WILL BE DONE, is when she finally felt the peace that surpasses all understanding. We are not alone and can do ALL things with HIM who strengthens us.
I struggle at times the balance of marriage to my EH and being the bride to my HH He calls me to be. I know at times I allow the cares of this world; having to attend to the home, my EH and children, I lack at times the intimacy I so need and desire. Forgive me Lord if I have ever put my EH desires before Yours, because I never want to displease You or be unfaithful to YOU. My heart is Yours!
My precious LOVE, Thank you for allow these past couple of weeks to be able to have more time with YOU. You are so faithful and words cannot express my gratitude and love for You. You are the best Husband anyone can ever have. Help me to be wise and obedient to Your word. Bring me clarity and confirmation when I am not clear on what to do or say. I want to do Your will.
If you ever thought you knew what God wanted for you, I encourage you to read this book and be blown away with a level of LOVE, UNDERSTANDING and PEACE that truly surpasses all! Open your heart and find your TRUE love that will supply all your needs and be all that you want and desire.
"He Did It Mom!!!"
I live at home with my 13-year old son. With Summer over, he was looking on the school website for his upcoming class schedule. He read on his personal page that he had gotten a 2 on a Language Arts state-wide test. He needed to get 3 or above to pass.
I am blessed with my son. He is very bright and does very well in school. He is also a part of an ART program where 2 of the 6 daily classes he attends are in ART. The reason I share this is because if a student doesn't pass this test, even if they passed the class, they have to take an intensive class for that subject. In this case, he would have to miss his art class and not be able to complete his portfolio for his upcoming High School. Well, he was devastated and begged me to call the school and make sure this DIDN'T happen.
I was a teacher for many years, and in the past, I know for sure I would have taken control and used my expertise to persuade the administration for my favor. This was the old me. I stopped my son, took a hold of him and said, "Son, let's pray about it. If it's God's will then we need to trust Him, He knows what is best, and if it's not He will make a way to change it." He was hesitant but I showed Him the peace of God, and although I am sure he would have liked the "old" me better at that time, I had to remain firm in my decision.
I also SG and prayed when another small issue came up. Of course, it was HUGE for my son, but I know there is nothing too big for my HH. He finally got to view his schedule and the math teacher assigned to him was not the one he wanted, and he had heard "not-so-good" things about this teacher. In my heart, I cried out to God and said that in my past, I would have done something about it and probably gotten my way and got this teacher changed, but I am no longer my old self and I wanted Him to shine for His glory and to teach my son to TRUST in Him. How can I ask my son to trust God if I get in the way and DO something about it. So, I calmly said to him to pray about it and HIS will be done, so whatever the outcome we can be at peace that He knows the best for us. So that was what we did.
I picked him up from the first day of school and he was so excited!!!! He said "Guess what mom, God did a miracle. I got to my 1st-period class and she handed a copy of the schedule to each student. When I read mine it said I had the math teacher I really wanted and I have no intensive classes so I have a normal schedule. He did it mom!"
We shouted praises of joy and gratitude together. I was so blessed to share that moment with my son so he can see that He is faithful and able to move mountains.