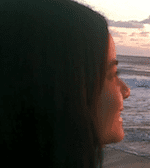 ~ Sara, who was living in Turkey when she began her Restoration Journey, began by helping to translate our resources into Turkish—even though her first language is Portuguese! Though this is extraordinary, her journey and the changes He has made in her is even more so. Just looking at her face, which is clearly glowing, speaks volumes and confirms one of our most favorite verses "They looked to Him and were radiant, and their faces will never be ashamed." Psalm 34:5
Before joining RMI when she became a worker@home, the Lord prepared Sara for her position as RMI's Translation Director by learning Turkish, Russian, English, besides speaking her native language of Portuguese.
Sara, what brought you to RMIEW?
My journey began, when after 4 years of marriage I thought that everything was fine, but because I didn't know about the principles of God's Word, I started to see the destruction of my marriage. When I found the book How God can and Will Restore your marriage, it was like the Lord was speaking only to me. After finding hope, I started to apply the principles. In the beginning it was very difficult, because we think that applying the principles is enough. At the time I didn't understand very well how I could have a relationship and intimacy with the Lord. I also started the courses. I remember at the time it was the only thing that brought me peace.
How did God change you as you sought the LORD wholeheartedly Sara?
As I started doing the courses, and watching the Be Encouraged videos daily, the beginning of the journey is so difficult, so many things come to our mind, it's a constant battle. I spent most of my days literally crying to the Lord for help, we are so blinded with the pain and sorrow, that we can't enjoy the presence of the Lord and what He is doing in our life. The Lord put a desire in my heart to know more about Him, so I started reading and studying His word, my focus was to get rid of all the pain and suffering, and the Lord used this to teach me to seek Him and to have a relationship with Him. I spent four months alone, suffering, and crying, but during that time, He was molding me, transforming me to be His bride. I still have a long way to go, but with Him by my side, I only can enjoy.
What were the most important principles that the Lord taught and revealed to you, Sara, that made the most impact on your life during your Restoration Journey?
All the principles He taught me were important, because I was away from Him for so long. But if I need to choose the one that made most impact in my restoration journey was to be quiet, not only with my husband, but I learned not to speak about my situation with others, I learned to trust on Him always. In my life, I was used to asking people what to do, now I learned to ask the Lord what He wants me to do. The letting go is so important, when I started applying this principle I begin to see the Lord working in my life.
Sara, what would you say were the most difficult times that the LORD helped you through? 
The most difficult times was when I was feeling lonely and away from people that loved me. But I knew that I needed to pass through it with the help of the Lord. Dealing with my negativity and my feelings was very hard, but the Lord used it to help me renew my mind, and to not rely upon circumstances. The other moment was when my divorce was finalized. I was so devastated, but it was that point that I really started to know Him.
What was the "turning point" of your Restoration Journey Sara?
The turning point of my restoration journey was my divorce!! Maybe you will think that I am a fool, but during the time that I was married, my journey was based on the fear of the divorce and I couldn't let go.That is what He used to turn my heart to Him, it was difficult and painful, I couldn't understand why I need to pass through this if I was applying His word in my life. The thing was that He wasn't the first one in my heart and mind.
Tell us HOW it happened? Where were you Sara? How did you feel?
After my divorce was finalized, I start to feel a peace that only came from Him, I was hurting for so long, I was suffering so much. So when the papers were done, I started to feel His healing. I started to think about Him, and His plans for my life. I have now more conversations than crying. I started to ask more of Him in my life, I wanted to feel the same love that the women were writing about in the Praise Reports. Finding the Abundant Life courses is helping me to be closer to Him. The trials continue, but because of my trust on Him, I really can see the way the He is working in my life. I am happy to be where I am now, I know that it's not finished that there are many things that He will do.
Would you recommend any of our resources? Resources that helped you come to this turning point Sara. Which resources helped you the most?
All the resources helped me: the courses, videos, the devotionals, the Bible of course, the encouragement that women write in praise reports. And also working with the translations for the Ministry helped me to understand that is not about me, that so many women are hurting and all of us need Him.
Sara, what would you like to say to a woman who is reading your BIO, helping to encourage her.
Dear bride, what happened with me is not necessarily what will happen with you. We all came here with the same purpose, that is to find help for our marriage, we all want the restoration. But after you will learn that the most important is the relationship that you have with the Lord.
I want to encourage you a never give up of your restoration journey, because it will lead you to the most important relationship that you can have during your life. Maybe you think that your situation is hopeless, but I know that the Lord can do the impossible, never look at your circumstances, run to Him only, and run fast. He wants your trust and love. Seek His presence and His will for your life. And soon you will see the many blessings that He has prepared for you!
READ more about #Sara in her ongoing Encouraging Praise Reports to witness her journey as it unfolds!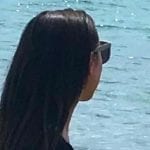 ~Tara in Missouri, Erin Thiele's daughter, has never been married and has chosen to keep herself morally pure by not dating until the Lord reveals His choice for a husband. In the meantime Tara is reading and rereading A Wise Woman and helping to write, with her mom, Erin, A Wise Woman Single available for younger women like herself— all while experiencing the Lord as her Betrothed.
In addition, Tara also chose to forgo attending college or university after being homeschooled, amidst ridicule and mocking. Her HH rewarded her by educating Tara Himself— taking her around the world!! Having such life experiences that many could never have in a lifetime. Tara has met and has become close with many brides, RMI ministry leaders, translators, and dozens of people along the way who she's shared her testimony with. A testimony to young women today who may choose HIS ways over the world's ways —remaining morally pure and instead live His Abundant Life! #Tara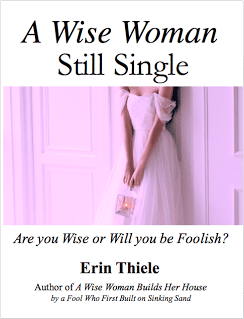 A Wise Woman
Still Single Course
I'm Erin Thiele's daughter Tara— the fifth child of my mom's seven children. I'm just one of her three "restoration babies" after her marriage was restored.
This coming March I will be turning 28 and have chosen not to date (even when I am asked and pursued) in order to wait for the right man that the LORD has chosen.
The waiting is well worth it and I already have the FIRST love of my life, the LORD.
Being single has given me precious time to learn how to be a wise woman and one day a wife and mother. If you or your daughter(s) have not had the opportunity to read the A Wise Woman, I'd encourage you to do it. It's an extremely valuable book founded solely on scripture.
Schooled from Home
Many women have been beyond grateful they continued to keep their children homegrown, not giving in to the pressure or temptation to send them to school. And thank God because—later each experienced a loss they never knew was in their future.
A woman our family had known because some of us worked with her in another area of our church —who was extremely sweet and had a wonderful family. They had two small sons, and also a daughter Hannah, who was their redheaded special child. Her mom had begun to homeschool but sadly was getting pressure from everyone, and we mean everyone, to get more help for Hannah. Often saying that since her mom wasn't professionally trained to help with her special needs.
My mom was the only one who told her the opposite. What my mom told her is that God ordained her, as her mother, to train her daughter, but most importantly that there was NO ONE who loved and understood her more than she did. Her mom was who'd invested everything so far (along with her husband and family) and it was why Hannah was so endearing, and smart despite her limitations. So my mom pleaded with her to not even consider putting her in school or in any programs. Never to send her away to learn what the experts said she'd benefit from. Thankfully this mom's husband also agreed and so she continued to keep Hannah homegrown.
It may have been just 2-3 years later that we heard the shocking and heartbreaking news that Hannah had passed away in her sleep. There was no explanation for how or why—but this family suffered the greatest loss imaginable. What we all knew, without her mom having to say it, was THANK GOD this mother spent every single minute with her daughter!! That little girl didn't need to have anyone "professionally trained" to help her do any more than what she already had taught. Instead, because she was HomeGrown, Hannah's special tenderness and love were experienced by everyone she met and she was used in many ways during her short life. God had created her to do just that, along with bringing something so special to this family, until He called her home.
The next story is also heartbreaking. A pastor's wife who'd gone through the class lost her children when her husband cheated, ran off with someone and then won custody of them. Though her former husband promised to continue to homeschool, within weeks the mother heard they were in school. She later told us she regrets having not spent more time with them, not knowing that she would soon lose her children. Sadly, losing custody is becoming more and more common throughout the U.S.
Though, as my mom would tell me, you should believe neither of these things could ever happen to you, it IS going to happen to some of your family or friends or someone close to you. So by you finding the EASY and LIGHT path of making sure your children are HomeGrown, and encouraging other mothers to know that they, as mothers, make the best teachers for their children—in everything— you can make a huge investment into your children's future.
Luke 6:38—
"Give, and it will be given to you. They will pour into your lap a good measure—pressed down, shaken together, and running over. For by your standard of measure it will be measured to you in return."
This is what we hope to pass along to each and every mother. Wisdom from my mom who allowed me to be HomeGrown (never going to school ever) and encouragement she's given to me and I've heard her give to my siblings.
What my mom would say is: Don't set your goals so lofty and difficult that either you or your children crumble under the pressure, but also SG "seek God" for the wisdom then choose His path that's both EASY and LIGHT of burdens.
It's the best gift to be a part of this ministry and the most rewarding part is witnessing and reading the testimonies from women around the world. Testimonies of the change they've experienced through the Lord!
I'm especially excited about this year because He is already opening up opportunities to travel! Some years ago the Lord began to show me, and my mom, that I was going to spend some time abroad! At the time it was a Habakkuk 2:3 "appointed time" promise, so I was eagerly awaiting His good will and timing for it all to come about!
In April of 2012, I was suddenly blessed with my dream trip to live in Japan with my cousin, experiencing the culture through my uncle's (my mother's brother) family.
Now my heart and hope are to begin traveling for Encouraging Women, the first trip was meeting two ministers in Brazil September 2016 and later that December a Nicaragua Ministry Retreat.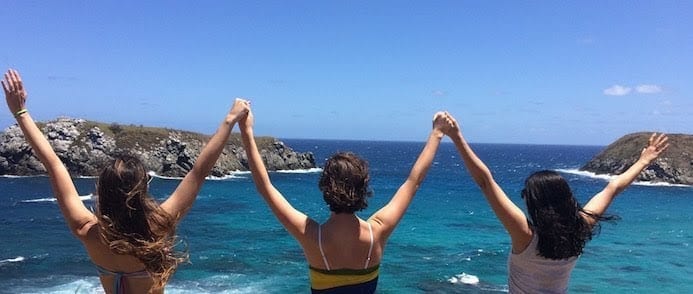 2016 Announcement Statement: We're so excited to announce that our Spanish Ministry is heading to Nicaragua! We'll be sending Lota, our Spanish Restored Marriage Minister who has been used by God to work closely with RMI's Spanish Español ministry since her marriage was restored over a decade ago "Restored after Going Through the Fire!"
Equally exciting is that Erin Thiele's daughter, Tara, will be joining the group to share about the A Wise Woman Single.
Finally, to make up the 3 Cord will be, Quesia who will share more about her restored marriage "I thought I Should be Respected"
---
These two trips were just the beginning, just a glimpse into what Tara's HH had planned for her! In 2017 Tara traveled to Japan for 6 months and then South Africa in between.
To date, He has taken Tara basically around the world meeting many women! Such a testimony to young women who will choose HIS ways over the world's ways of devoting themselves to gaining the world's knowledge—to forgo college or university, amidst ridicule and mocking—HE personally educated Tara by taking her around the world!!   
Posted on our Encourager blog, Tara began a LALTour "Living the Abundant Life Tour" in April 2018 by flying to Turkey where she met Sara and the two began traveling. Their first country was Athens, Greece!! (Acts 17:16) then they flew up to Dublin, Ireland and then traveled north by train to Belfast, Ireland. Belfast is where Erin's grandfather was born and immigrated from.
After Ireland, they crossed the Irish Sea by ferry and made a short stop in Glasgow before heading to Edinburgh, Scotland.
Then Sara and Tara took the train down to London, England where they meet at least 3 brides who've contacted us!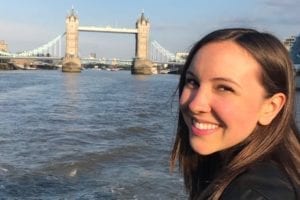 Their first stop on the European continent was PARIS—where they hadn't even planned to go! Yet He lovingly orchestrated a meeting with two brides in Paris, France Adele whose RMT "Was I Sincere in the Apologies I Made to Him?" They were so excited to finally meet her! Then meeting another bride (and former minister) they visited Brussels Belgium, where Dallas' brother-in-law, along with his family, is serving Convoy. Traveling through Germany and then Vienna Austria where they were so excited to meet and spend time with Aimée in Slovakia!!
Our brides went onto Venice, Italy —stopped in Florence and Pisa before heading to ROME. For the next six weeks, they rested physically but worked in Sicily.
Again Tara had no idea traveling would continue! Traveling back to Rome, each flew to different countries—Tara to Manila in the Philippines where she met Cherie— while Sara flew to Brazil.
She traveled to Japan, Singapore, Australia, back to London England and Paris France meeting even more brides!! Lastly, the Lord allowed Tara to meet Sara in Istanbul Turkey upon Sara's arrival from Brazil!
If there is ONE principle we repeat and follow it's He LEADS ME…
Psalm 23: 1-3—
"The Lord is my Shepherd, I shall not want. He makes me lie down in green pastures; He LEADS ME beside quiet waters. He restores my soul."
READ more about #Tara in her Encourager Praise Reports
"Understanding and Wisdom"
I'm so excited!! Right now, I'm going through the entire Bible using the Alexander Scourby App and I can't tell you how great it feels!! It's 70+ hours of audio, but you can get through it in 2 1/2 months by reading 30 minutes at night and 30 minutes in the morning!! Just imagine how many times I could go through it in a year if I really wanted to! This is the most powerful way to get through the Bible with the listen and read at the same time while the verses are highlighted. My family used the Alexander Scourby for years, but it was never offered like it is now —on your cell phone!! It's the absolute best feeling to be able to "feed" myself and when I've been reading it —I can't help but talk about it. "But his delight is in the law of the Lord, And in His law he meditates DAY and NIGHT." (Psalms 1:2)
I use to feel intimidated about the Bible, but now I don't have to be! Also, I love that it's read in the King James Version, but if you're not used to this, you can ask the Lord like I do to give you understanding and wisdom with what's being said! "But if any of you lacks wisdom, let him ask of God, who gives to all generously and without reproach, and it will be given to him." (James 1:5)
"My people are destroyed for lack of knowledge. Because you have rejected knowledge..." (Hosea 4:6)
SEARCH "Scourby YouBible" by visiting your App Store with your iPhone or iPad.